Bay Bridge from Twin Peaks

The Oakland cantilever span is shown above the San Francisco suspension span with Emeryville Marina in the background above it. From the headlight streaks you can estimate that the exposure (at dawn) was about one second.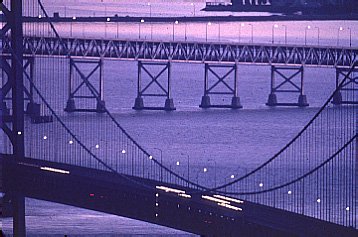 Photographed with a 2,000mm Pentax catadioptric (reflecting-refracting) lens, this is what you would see looking through a 40-power telescope from Twin Peaks in San Francisco. The San Francisco span is about 5 miles away, the Oakland span is about 7-1/2 miles and Emeryville Marina is about 10-1/2 miles from Twin Peaks.

Even in this dense urban setting, I again found myself the only witness to this scene. I've been asked many times — I've even asked myself — what has compelled me to photograph telescapes for over 30 years. My best answer is that if I didn't record these remarkable events, no one would ever see them or get some pleasure from viewing them. The relatively few scenes I've been able to experience and record are, I realize sadly, only an insignificant sampling of the marvelous occurrences which must be taking place unwitnessed and unappreciated every single day.
---
Golden Gate Above the Bay Bridge

The towers of the Golden Gate and Bay Bridge are aligned in this view from the former Merritt College in the Oakland hills. I looked on a map to find where the towers would line up.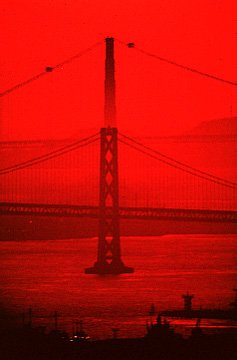 ---
Farallon Islands Behind the Golden Gate

From the Lawrence Hall of Science, in the Berkeley hills, the Farallon Islands are visible behind the Golden Gate Bridge on very clear days.


---
To page 1 | 2 | 4 | 5 | 6 | 7 | 8 | 9 | 10
Please contact me at