Vermillion Cliffs from Grand Canyon

31 miles away according to one of the last of my friend Tom's original "Indian Country" Maps, which he used to edit while he was with AAA in Southern California. I still like to use Tom's map, if only for the fond memories it brings back of the many years when we used to meet up during our Southwest trips to enjoy good food, wine and adventures.

Maybe one of these days, when we're both retired from computer-related jobs and too old to do much more than sit in rocking chairs on the porch, we can finally produce a book together (either in print or on the Web) — my photographs, his writing — in which we can share the many adventures the photographs represent.

In fact, we first met in 1981 at Cape Royal on the North Rim, not far from where this picture was taken (Pt. Imperial). He was on his AAA trip and I was a greenhorn on my first trip to the Southwest. We were the last ones enjoying the remaining light of the day and he offered me several suggestions about places to photograph. I think he also gave me a copy of my first Indian Country Map. As they say, "the rest is history."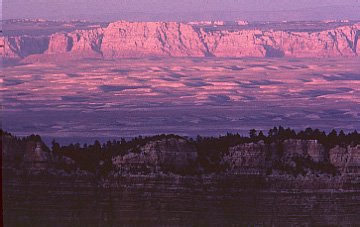 ---
Canary Springs, Yellowstone National Park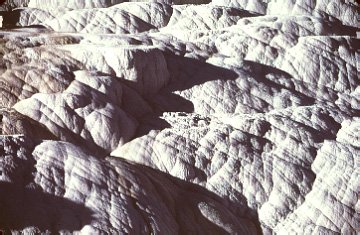 Taken with a 1000mm focal length lens (20X normal magnification), this scene has also disappeared due to tree growth obstructing the view. I could swear that this was called Cardinal Terrace when I took this picture but has been renamed.
---
Goblin Valley (Utah)

This is a strange place, not only because of the formations but because, although they are somewhat remote and have to truck all their water in 75 miles from Green River and electricity is by generator, they have the luxury of hot showers available in the campground. You rarely find anything like that unless you go to the Grand Canyon.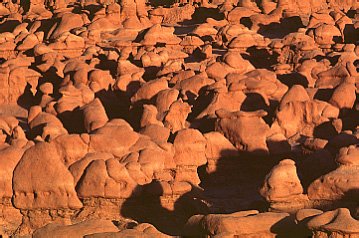 ---