To page 1 | 2 | 3 | 4 | 5 | 6 | 7 | 8 | 10
---
TELESCAPES and FLORAL DREAMS
---
Fujisan (Mount Fuji, Japan)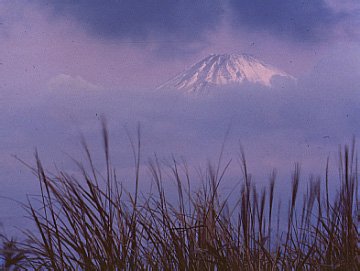 I visited Japan in 1986 as the first American to have an exhibition at the Pentax Forum in Tokyo. I was invited by Pentax to exhibit there because someone from the company in Japan chanced to see an article about my telescapes in Popular Photography magazine.

Coincidentally, about a decade before, I was the only Pentax dealer in the U.S.A. selling their cameras exclusively, solely by demonstration (using my own equipment), and without a retail store location.

A well-known Japanese photographer graciously offered to take me for a couple of days to see the famous landmark Mt. Fuji, or "Fujisan" as it is affectionately called by the Japanese, and nearby scenic areas. Unfortunately both mornings were very foggy.

We left Tokyo by 4-wheel-drive minivan at 3:30 a.m. and arrived at a viewpoint looking out at dense fog obscuring everything beyond the 25-foot range of the headlights. My photographer friend asked me if I had a 5,000-yen Japanese note. I pulled it out of my wallet and turned it to its backside as instructed. He placed it on the dashboard and said, "This is exactly the view of Fujisan you would see if it wasn't foggy."

I must say it was small comfort indeed to have to take his word for it.

The next morning we went up to a hilltop before dawn in another attempt to get a view of Fujisan. My friend told me that visitors often never get to see it during winter sunrises because it's usually very foggy and cloudy. I held out very little hope this time because the fog was very dense even at that elevation and we couldn't see anything beyond the tall grasses alongside the road. I set up my camera anyway, after being told approximately where Fujisan was, and waited for whatever light was going to appear. Oh, yes, it was also very windy — just one more thing which seemed to be conspiring against us.

As the sun rose, obscured by a heavy cloud bank to the east, the fog slowly lowered, Fujisan broke through the layer, a wisp of fog hovered over its peak and I took this picture. Although the fog decreased rapidly as the sun rose higher, I realized that the fog was, in fact, an absolutely essential ingredient to the moment.

Notice that the bottom of the grass stalks are in focus, as well as the peak of Fujisan, even though they are separated by many miles. This is possible only because the 300mm view-camera lens I used was tilted so that the plane of focus is inclined nearly horizontally to pass through both subjects. This would be impossible with any other type of lens.

The leaves were blowing vigorously in the wind so it wouldn't have been any advantage to focus sharply on them as the light was too dim to allow a shutter speed fast enough to stop their motion. Focusing sharply on the relatively stationary stalks below and adjusting the shutter speed longer to emphasize rather than minimize the motion of the leaves above has the benefit of reinforcing the feeling of motion.

The trick is to be able to make these decisions before you have to take the picture rather than after you get home and realize you should have done something else. My engineering background has taught me to constantly research, test, retest, experiment, calibrate, practice and prepare — preferably before the need arises. I find that when an opportunity for a rare photograph presents itself I am usually given only one chance!
---