Death Valley Dunes, Stovepipe Wells, Death Valley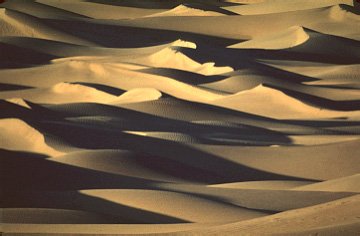 More than half a mile of dunes is compressed into a single photograph with a 1,000mm mirror lens (20-power magnification). Magnification not only brings everything closer but "flattens" perspective and lighting, making distant dunes appear the same size as those in the foreground and making the illumination, colors and angles of shadows appear the same everywhere.

The result is a more "global" perspective, an appreciation of how large objects relate to one another beyond the familiar but very limited "human scale." Imagine how much different this scene would appear if you were standing on the near dune and observing the dunes decreasing rapidly in size with their distance.
---
"Persimmon" Dunes, Death Valley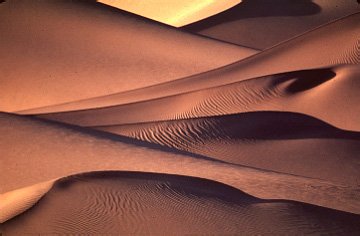 The Death Valley Stovepipe Wells dune field was photographed with a lens-mirror telescope designed for amateur astronomy or wildlife viewing, at 1,750mm focal length (35-power). "Persimmon Dunes" is my own title referring to the colors and not an official name of any part of the dunes.

Many telescapes appear to be aerials, almost as if they were taken from a helicopter hovering above ground. Rather than looking up at a subject, as you would be if you were much closer with a wider-angle lens, with a long telephoto you are viewing the subject at more nearly the same level.

The dunes in this photograph appear to be stacked up upon each other, getting taller and larger the farther away they are, merely an optical illusion to which our eyes are simply not accustomed to being confronted. I've photographed buildings using high power lenses from afar, in which the roof, front and a side were visible. The buildings actually seem to be getting bigger toward the back because our eyes apparently can't be convinced that there is no vanishing point toward which the angles seem to converge, as we have come to expect in everyday life.

What this means in practical terms is that telescapes enable me to show objects in a more global relationship to each another in a way that's impossible with the naked eye.
---
Coral Pink Sand Dunes, Utah

Looking south toward the north rim of the Grand Canyon.


---